Registry Ideas: Wine Club Membership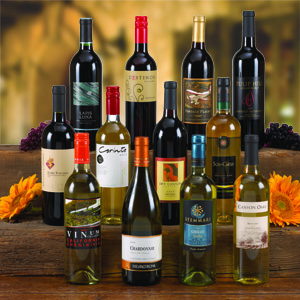 Talk about a wedding gift that keeps on giving. A wine club membership will deliver a variety of fine wine to your door each month. Ideal for foodies and wine lovers alike, subscribers can keep the celebration going long past the wedding and will be surprised every time when they open their new arrivals.
Through Wine of the Month Club, couples can choose from five levels of service, including the Classic Series Membership (starting at $21.95 plus shipping and taxes), which sends two vintages of wine each month hand-selected by the owner. The wines are comparable to $12-$15 selections typically found at your local wine shop and come from lesser-known but highly reputable wineries from all over the world.
Meanwhile, one of the best perks of a wine club membership is variety. For instance, with the Classic Series, newlyweds can choose from bottles of red and white or two of the same types of wine each moth. Other service plans include hard to find wines and a cellar series that supplies you with six wines every other month. Gift givers also have the option of choosing how long they'd like the membership to last, making it perfect for any budget -- especially if a group chips in together.
At Cellars Wine Club, choose from champagne options to sweet wine to even high-end wine produced in limited quantities from boutique vineyards. Wine.com is another great option when it comes to gift variety. Go for the ultra-premium wines rated 90+ by the world's top wine critics or pair your wine with some delicious food like cheese, chocolate, and paella.
Have any preferred wine clubs? Let us know about them! Also, if you have given a wine club membership as a gift or received a membership in the past, be sure to tell us about your experience on Facebook.