3 Indoor Game Ideas for Your Wedding Registry
Already got enough china and kitchen accessories to last a lifetime? Don't feel obliged to stock your wedding registry with items you don't need or already have. Instead, consider registering for some unique indoor games that will certainly add some fun to your home. Whether you're looking for something sports-related or a compact item better suited for your space, check out some of our favorite game ideas to include on your registry.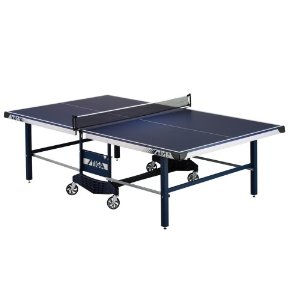 Table Tennis
Bring the fast-paced game of table tennis to your backyard or basement when you register for a ping-pong table. The two-piece Stiga STS275 table ($599.99) is highly regarded for its durability, tournament-style playing surface, and convenient playback & storage positions.
Pool Table
Likely to be the centerpiece of your rec room for decades to come, billiards is a terrific game to play with friends, family, or even on your own. Tables can range from under $1,000 to well over $5,000 -- particularly those equipped with first-class features. For the casual pool player, consider Mizerak's Donovan II 8' Slatron Billiard Table ($899.99) found at Dick's Sporting Goods.
Poker Table
Meanwhile, Texas Hold 'Em fans may want to consider adding a deluxe poker table to their registry. The Trademark Poker 96-Inch Hold 'Em Poker Table ($303.97) is a popular choice, while the Rockwell 94" Elegant Poker Table ($1,499.99) is at the top of its class.