Registry Gifts Perfect for Summer: Garden Game Set
We're absolutely smitten with this beautiful garden game set from Anthropologie.
The colorful collection of 15 lawn games includes a four-player badminton set with rackets, net, and shuttlecocks; giant garden tic-tac-toe set; four-player croquet set with ash mallets; giant wooden dominoes; lambskin frisbee; and a golf putting clock game, among many others. Meanwhile, a handy (and handsome) woven willow basket keeps the games organized and easy to transport around.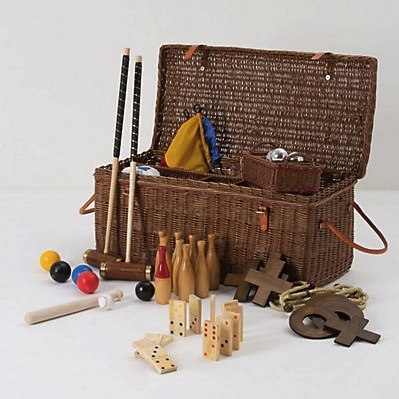 While the set certainly doesn't come cheap at $6,500, it will certainly pave the way for countless weekends of outdoor recreation and entertainment with your family and friends. Plus, with its incredible variety, this "big-ticket" registry gift idea is also perfect for adults and kids alike.
Which game in the set would be your go-to activity? Share your thoughts over on Facebook.