I have to admit that one of my many baby gear obsessions was (and continues to be) baby carriers. After the last year of transporting bambino around and having various options in which to do so, I have concluded that the best and most used item was the Ergo Carrier. When she was a tiny baby we used this with the infant insert and she loved it. I felt like it was cozier than the Baby Bjorn Air (although my husband liked the Baby Bjorn because she could face out in it) and easier to toss on when the baby was fussy and needed an immediate walk before melting down.

Now that she is older, when s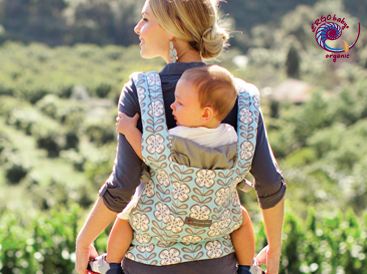 he is tired I carry her facing towards me and when she wants to explore I wear it on my back (great for the farmer's market). The side sitting option is great for when I just need to do a few things around the house and I need her to stay close to me. The very best usage I have gotten from this carrier is during airport travel. Upon check-in she goes into the carrier allowing me to have my hands free to deal with tickets, pack up her car seat and stroller, and go through security. I really loved using slings and especially liked peanut shell and the kangaroo korner mesh sling (great for wading in the water) but they didn't seem to be as universally useful as the Ergo. Now, one of my favorite diaper bag designers - Petunia Pickle Bottom has a line of Ergo's in her designs and they are beautiful! I wish these were around when I bought mine.