Real Member Stories
We always love to hear how SimpleRegistry helped someone create a truly awesome registry. Do you have a story to tell us? Let us know →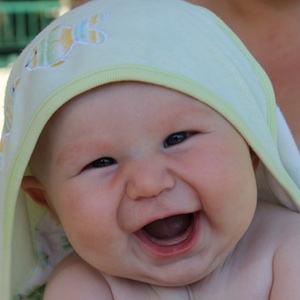 Neoma & Ben
While preparing our registry, we visited a few different stores to physically touch things we might want.  We had a lot of fun wandering (I waddled) around stores.  I was able to get a good idea of what I liked and didn't like.  When I really liked something, especially when I hadn't thought of it before our trip to the store, like our awesome bath toys, I was able to scan it right into the registry using my phone. Later our friends and family who could come to our baby shower were able to either return to the same store or shop around if they liked.  Those that lived too far away to come to our shower were able to contribute monetarily via the website and know that they were really helping us out with baby items we really wanted.  I also really enjoyed seeing what people were inspired to buy. I often put down general desires rather than specific items, i.e. "unique baby clothes" or "fun toys."  A friend got us a darling organic cotton duck love that we had never seen before and my son sleeps with it every night and naptime.
Read the entire story →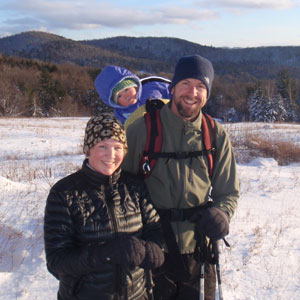 Emily, Chris, & Baby Parker
We chose
SimpleRegistry
because it allowed us the flexibility to craft a registry we were proud of. We try our best to tread lightly on the planet, and everyone knows babies require a lot of stuff. Being able to buy gently used gear was a top priority.
SimpleRegistry
let us customize our registry so that our generous friends and family could help us feather our nest with quality used items, including a high chair, an infant bath tub, a swing, a nursing pillow, baby bottle supplies and more. In addition, our loved ones were able to share the cost of expensive items. It was a relief to be able to accommodate many different budgets and a wide variety of goods on a single registry.
Read the entire story →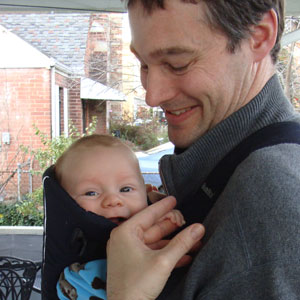 Ramona, Jeff, & Baby Angus
"Congratulations! Where are you registered?" When you tell people you are pregnant, this question soon follows. For many months, I had no answer. Several close friends with toddlers had promised to give me their baby items, but what exactly they would be handing down, I had no idea. Furthermore, as a new mom, I was totally confused by the cornucopia of baby paraphernalia in stores and magazines. The prospect of clearly identifying what I needed, how many, and which style/size/color/theme was too overwhelming. I was cowed into inaction, and answered my friends and family with a lame, "Um, I don't know. I think we'll figure it out soon..."
Read the entire story →