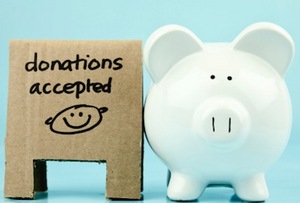 The gift of charity has become quite a popular wedding registry trend in recent years. It's not only a terrific way to show your friends and family that you want to make a difference in the world, but it can make a major difference for organizations -- and many individuals -- in need.
First as a couple, simply choose the charity or charities you'd like to benefit in honor of your wedding. There are literally thousands of options -- from making a donation to a nonprofit like the National MS Society or the World Wildlife Fund to supporting your local library or even a regional fundraiser.
Next, determine how much you'd like friends and family to donate to your selected charities. For some couples, particularly those that already have three sets of kitchen knives and a dozen wine glasses to their name, it could very well be 100 percent of the wedding registry. For others, it may be $100 or $200. But no matter the amount, the donation itself is what matters most.
Not affiliated with a particular charity or benefit yet? Your marriage is a great opportunity to start supporting a cause and get involved as a couple. Try to find an organization whose work is meaningful to both of you. Head over to CharityWatch.org for a complete list of charitable organizations, links to their homepages, and overall grades based on key criteria.